The Oscars can be boring. Although the lengthy award ceremony has its moments, there is only so long we can enjoy watching A-list celebrities thanking every member of their families whilst adorned with silks and Swarovskis worth more than the Qatar royal family. The Oscars are much better enjoyed at a distance. In a matter of seconds, the only worthwhile moments of the ceremony are photographed, tweeted, retweeted, memed, blogged, and ultimately passed through the chaotic machinery of the viral internet to become far more entertaining than the events which inspired them. So, resist the urge to watch the entire thing from start to finish and take a look at its best moments, as told by the online community:
1. ADELA DAZEEM
John Travolta evidently hadn't done his homework before introducing Idina Menzel, who sang "Let It Go" from the movie Frozen. He mispronounced her name, and it barely resembled human language. General consensus has transcribed this gibberish as either Adele or Adela Dazeem. Thankfully, Miss Dazeem is now the proud owner of a Twitter account.
THANK YOU, JORN TROMOLTO!

— Adela Dazeem (@AdelaDazeem) March 3, 2014
2. ELLEN DEGENERES' SELFIES
Celebrity selfies are often great. A celebrity selfie containing 11 A-listers is the greatest. This one was taken for Ellen's Twitter account (@TheEllenShow).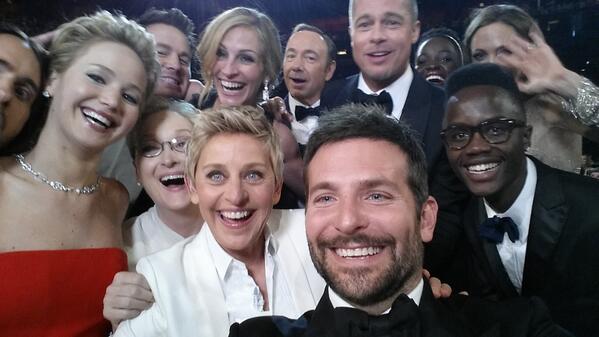 The untold story of Liza Minelli was revealed by the photograph below, which also appeared online. She was too short to make herself known to the camera.
But this made it all okay:
3. LEONARDO DICAPRIO DOESN'T WIN BEST ACTOR. THE INTERNET CRIES.
If you have ever visited the internet, you will know that it is populated almost entirely by people who really, REALLY want Leonardo DiCaprio to win that Best Actor Oscar which has eluded him so many times before. This year it eluded him again, and, this year, the internet isn't happy, again.
4. KIDS REENEACT THE BEST PICTURE NOMINEES
Strictly, this video is not relevant to our small list, as it was released prior to the actual ceremony. However, this is by far the cutest nugget of internetty genius inspired by this year's Oscars. You may experience extreme broodiness.
 5. OSCAR NOMINEES POSE WITH THEIR YOUNGER SELVES
What's better than Meryl Streep? TWO MERYL STREEPS. Check out the rest of the images in this series over at People. They're definitely not Photoshopped; they really happened.