Now that exam/dissertation season is upon you and all your spare time is (or should be) spent inhaling books and repressing panic attacks, you don't really want to waste what little spare time you have trying to decide which TV shows to watch. So, as a gift to you, I'm going to make that choice for you.
This is an inherently depressing time of year, so the following list is exclusively light-hearted. If you fancy something harrowing,  True Detective is good although, fair warning, Matthew McConaughey is in it. Also, all these shows are American, because current British comedy is garbage. I'm so glad BBC3 is being destroyed. They should salt the earth.
Broad City
Seeing as no one really gives a shit about Girls anymore (soz Lena), I suggest you turn to Broad City for your vicarious 'I wish I was a girl and cool and lived in NY' viewing. The protagonists, Ilana and Abi, are co-dependent, twenty-something best friends being broke and generally having a great time. The actors/writers have spent years honing this series via webisodes of the same name, and with a supporting cast that includes the excellent Hannibal Buress, this is has become one of my favourite shows ever in less than ten episodes. There's a refreshing focus on female friendship and sexuality, which is still much needed in mainstream TV. Oh, and Amy Poehler is a producer. Heaven.
Rupaul's Drag Race
THE SHADE OF IT ALL. Literally the only worthwhile reality TV show, and the most eminently quotable TV show in general, is back for its sixth season this year. The queens are just as shady, the outfits just as incredible, and the level of self-awareness even more acute (if that's possible). It doesn't matter if you've never seen this show before, as the concept is easy to grasp: a bunch of premier level drag queens compete week by week for the title of America's next  drag superstar. Yes, it's as incredible as it sounds.
Brooklyn Nine Nine
Despite being in its first season, Brooklyn Nine Nine has the feeling of a much more established sitcom. This is probably thanks to it being the creation of some of the Parks & Rec alumni (side note, P&R wasn't given centre stage on this list because if you don't already watch it, you're an idiot, and this list isn't for you). Set in a fictional Brooklyn police precinct, the show flits between a standard Office/P&Resque workplace sitcom and a procedural parody, to great effect. It's also worth noting that this is a primetime comedy with an openly gay police captain and people of colour among its protagonists, which also won two Golden Globes before its first season even finished. In the UK, Mrs Brown's Boys won a BAFTA. UK TV can suck it.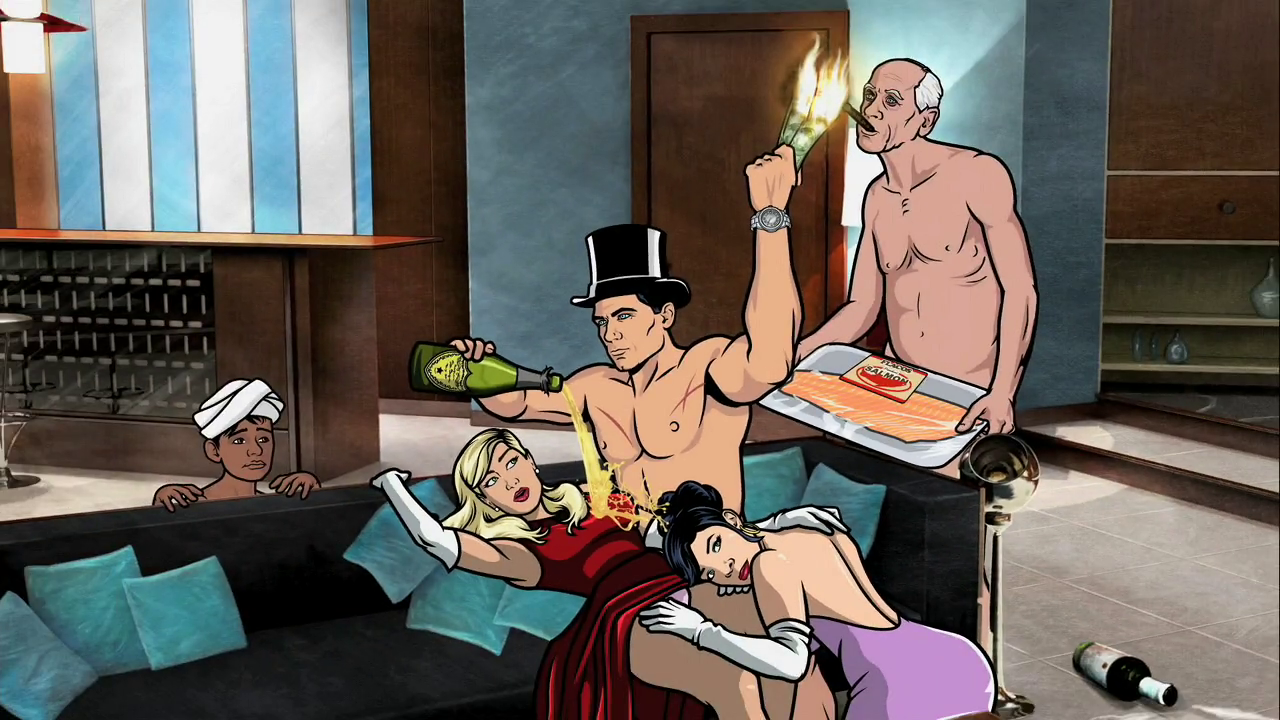 Archer
This show featuring the second hottest animated lead man (after the fox version of Robin Hood) is still jokes, even in its fifth season. The former agents of ISIS are now a terrible drug cartel, operating out of Cheryl Tunt's family manor. The switch in scenario has reinvigorated the show and put a welcome spotlight on Pam, due to her debilitating cocaine addiction. Oh, and did I mention that Archer is really hot?
Enlisted
This show probably won't be around for much longer due to its terrible ratings and the fact that for some reason the episodes have been aired out of order, which is a real shame. Despite some patriotic themes which make me a little uncomfortable, this sitcom based on three brothers at a sort of reject army base in Florida is both really funny and also really sweet, especially in its exploration of fraternal relationships. So, watch it while you still can.
Sirens
Apparently this sitcom about the lives of three paramedics working in Chicago was adapted from a British comedy, which I obviously haven't watched because I assume it was terrible. Also, this is also the second series on this list to have a gay person of colour as a lead character. God bless you, America.
Honourable Mentions:
Parks and Recreation (obviously)
Community (obviously)
Review
Mom (Ok, this show isn't actually very good, at all, but the two main characters are played by Allison Janney and Anna Faris, so it gets a pass. It's also a sitcom about recovering addicts and teen mothers, which is pretty unusual and worthy of commendation)
Happy Endings (always and forever, RIP)