As you probably know, Pantone's official colour of 2014 is 18-3224 TPX, a.k.a. Radiant Orchid, which strikes a sickly, diamante-encrusted-tweenage-diary middle ground between pale fuchsia and violet. Duh.
According to the Pantone website, the Color of the Year serves to 'express in color what is taking place in the global zeitgeist'. Unless the current zeitgeist is led by Taylor Swift's prepubescent fan base, I'm not sure Radiant Orchid is quite the correct choice.
The Pantone Color Institute's Executive Director, Leatrice Eiseman, describes the colour as 'magical', one which 'encourages us to innovate'. She says, 'it kind of embraces you; it pulls you into it. Think about that if you're wearing the colour'.
Although I can't imagine purchasing any kind of outfit in Radiant Orchid, I must admit that I'm a little hooked by Eiseman's borderline-nonsensical spiel. Besides, how could I dismiss the official words of Pantone? I often drink coffee from a Pantone mug in 3273 C.
In an attempt to embrace Radiant Orchid, I thought I'd find out whether the first four months of 2014 have offered us any treasures in its hue. Looking around me, I'm unconvinced that the colour has caught on: the only Radiant Orchid I see adorns the lid and label of the Highland Spring water bottle I just bought at Costa. With enough time spent on Google, however, I found a whole different story. And it is Radiant Orchid.
MICHAEL KORS MADE A JUMPER WITH IT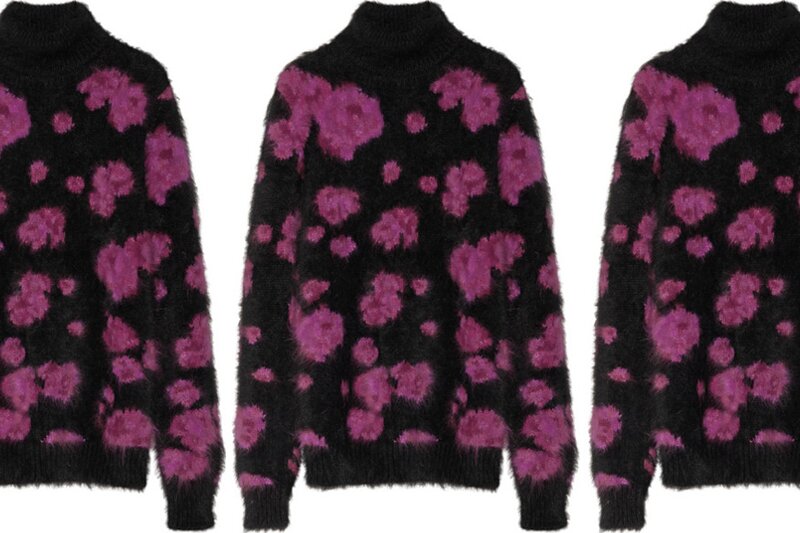 This Michael Kors jumper is actually something I wouldn't mind wearing. I like it because it looks as if it's been infected with a suppurating rash of Radiant Orchid, which is exactly what Pantone are hoping to do to 2014.
THE DAILY MAIL ARE USING IT

And if we've learnt anything, it's that the Daily Mail is always right, right?
KELLY OSBOURNE CONTINUES TO WEAR IT
In her hair. This may be a slightly washed out version of Radiant Orchid, but the Pantone website teaches us that its colour of the year may be subject to small alterations. How would we cope otherwise!?
QUALITY STREET CONTINUE TO WEAR IT
Adorning the laps of Strictly Come Dancing viewers nationwide, Quality Street chocolate tins continue to sport Radiant Orchid. This is a timeless and effective use of the colour because it perfectly reflects the repulsive sickliness of the confectionary inside.
LAVENDER IS WEARING IT
Lavender beginning to bloom across the globe has been seen to match the dulcet tones of Radiant Orchid. Crazy!
AND SO ARE ORCHIDS